The Corion non-profit Foundation and BitMinutes have announced a collaboration to provide and promote cost effective telecommunications and financial services aimed at over four billion underbanked consumers through services of BitMinutes and activities of #MoneyInTheRightDirection Movement. The CorionX have listed on Probit Exchange and on Uniswap Decentralized Exchange.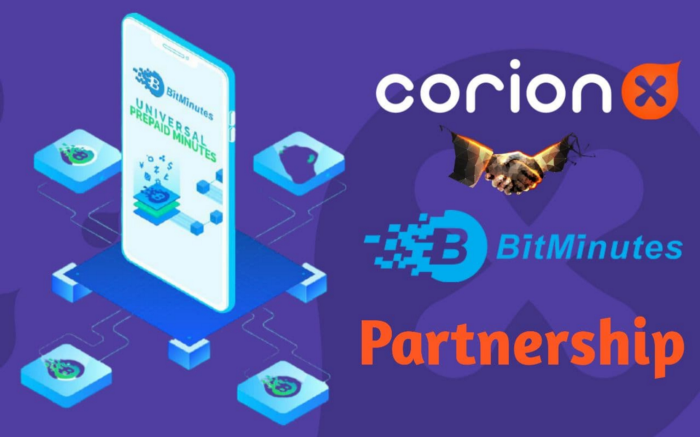 18th November 2020, Zug, Switzerland — The non-profit Corion Foundation is pleased to announce a new partnership with BitMinutes and their Trusted Agent Network (TAN). The partnership is the result of a shared mission and vision to ensure and introduce global access to swift, safe, low-cost Open Finance solutions a reality.
The Corion Foundation and BitMinutes with TAN will coordinate campaigns to educate and spread awareness using AMAs, Webinars, Training Sessions, Seminars, Working Groups, and all other means. They will also work together on marketing and certain business development initiatives. CorionX have listed on Probit Exchange and will be listed on Uniswap Decentralized Exchange.
BitMinutes provides a pioneering solution for 4 billion people globally
BitMinutes are a unique solution to address the special needs of the underbanked by combining tokenization technology and prepaid phone minutes (or "airtime"). BitMinutes are a global standard compatible with every major mobile phone carrier whose prepaid phone minutes are routinely transferred and traded between users within a single carrier. BitMinutes creates global interoperability between those carriers.
BitMinutes, as prepaid minutes, can be instantly converted to the ERC20 Token Standard, based on the Ethereum platform. These BitMinute utility tokens (BMT, or BMTs plural) combine blockchain and smart contract technologies into an architecture that, through third-party applications, offers guaranteed lending, free global value transfer and prepaid airtime top-ups. As an encrypted token exchangeable into prepaid minutes, BMTs can be used today by users of approximately 4 billion prepaid mobile phones in 130 countries and bank accounts in 70 countries. BMTs enable frictionless movement of money and minutes across global financial networks, mobile network carriers and emerging blockchains. All enabled through its Trusted Agent Network (TAN).
CorionX for the mainstream & merchant crypto adoption
Corion Foundation and BitMinutes are currently working together to create an ecosystem for underbanked people, where tokens (BMT and CORX) are exchangeable into prepaid airtime and can be used as digital value for transfers, payments and micro-loans. Via this collaboration the aim is to introduce Free Money Transfer and Trusted Agent Network.
Free Money Transfer allows users to effortlessly send money to countries and pay zero dollars in transaction fees. All patrons need is a bank account and either a computer or cell phone. BitMinutes' advantage lies in the ability to provide mobile-enabled international cash transfers, creating BitMinutes' and turning carriers from potential competitors into willing partners, like global music artist Akon's cryptocurrency (AKOIN), that connect the rising economies of Africa.
Trusted Agent Network (TAN) as a "Branchless Banking" Network brings affordable, secure, mobile phone-based financial services to communities that lack traditional banking services. TAN Agents become the financial center of their community as local agents sharing financial services. TAN Agents bring affordable, secure, mobile phone-based financial services to communities that lack traditional banking services.
Corion Foundation will integrate, promote and use services of BitMinutes and its resources like microloans, Trusted Agents (TAN Agents), value transfer, and mobile prepaid top ups. CorionX will provide frictionless onboarding, fast verification, token swap, fiat gateway, merchant support, solve the micropayments issue and scale-up stablecoin transactions.
CorionX ecosystem is designed to be a very low-cost alternative to traditional cash or cashless payments. It lowers the barriers of entry for entrepreneurs to launch wallets, payments services, loyalty programs, and any other systems that were previously powered by paper.
CorionX wallet will be able to store a wide array of different currencies and tokens both crypto and traditional fiat currencies to support CorionX (CORX), Corion's ERC-20 token and other Ethereum-based Stablecoins and DeFi tokens. CorionX wallet will provide frictionless onboarding, fast verification, token swap, fiat gateway, merchant support, solve the micropayments issue and scale-up stablecoin transactions.
CorionX provides a unique Staking without lockup. Holders of the CorionX utility token earn 2.5% quarterly staking rewards without needing to lock up their assets. This is distributed on the average CorionX balance held in the user's ETH wallet, leaving them free to transact and benefit from the token's utility without missing out on rewards.
Donald Chapman, Global Head of Business Development at BitMinutes stated:
"This partnership will accelerate our shared vision to solve major hurdles in providing financial services to the underbanked."
CorionX and BitMinutes believe in the future of programmable money, which is running on blockchain. It will also create more advantageous economies for merchants and individual users. Collaboration by these two companies will solve real issues like providing low cost financial services for underbanked people, education and easy onboarding of mainstream users.
Shared vision for mass adoption
CorionX is designed to create the global framework for education, expansion, and promotion for the usage of stablecoins, CBDCs, crypto saving, lending, OpenFinance and DeFi.
Corion Foundation's #MoneyInTheRightDirection movement has already started aiding the paradigm shift towards the mass adoption of crypto, digital and programmable money.
Miklos Denkler, Corion Foundation Board Member explained :
"This partnership will help to achieve our shared vision to support mainstream adoption of stablecoins and cheap financial services to unbanked people. That helps millions of people in local economies to use CorionX and BitMinutes services worldwide. CorionX users will able to use many daily benefits due to integration of BitMinutes services and the Trusted Agent Network."
This pioneering movement includes the Corion educational organizations, crypto projects, influencers, financial providers, independent investors, and journalists who all support the mainstream adoption and education of crypto assets, stablecoins and Decentralized Finance solutions. The CorionX utility token itself even supports the everyday use of crypto, with benefits through business partnerships, white label solutions, and Token Loyalty Staking with quarterly rewards.
About Corion Foundation
Corion Foundation is a non-profit organization, founded in 2016. It was created with the aim of helping the development and spread of stablecoins and reliable cryptocurrencies across the world. In 2018–2019 they realized that our aim is to encourage world-wide adoption of stablecoins, CeFi, safe DeFi, CBDCs and to help people to gain access to swift and a safe, cheap OpenFinance.